The Pros and Cons of Freelancing
Like every business in this world, freelancing also have the Pros and Cons in itself. The choice to freelance is a personal decision. Consider the advantages and disadvantages of freelance work, and working as a freelancer could aid you in making the right direction.
Nobody can deny the rise of freelance work in the present century. According to Upwork's "Freelancing across America" study, 56.7 million Americans freelanced in 2018, an increase of 3.7 million over 2014. it's more than one in 3 people who freelance.
If you're considering joining the growing community of freelancers, you should consider the pros and cons of freelancing to determine whether it's the right choice for you.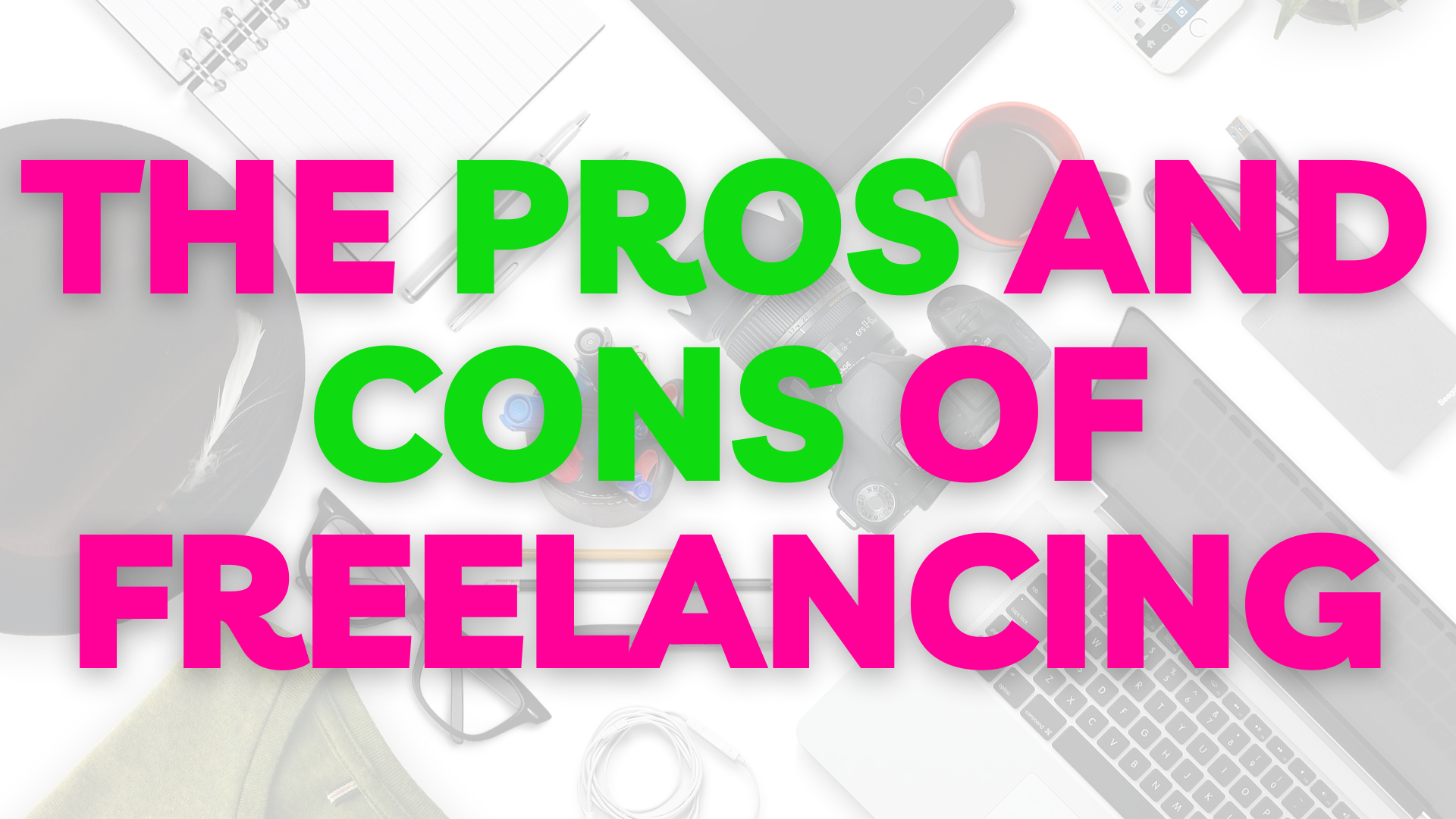 Freelancing Pros

Here we have listed some but not casual pros of freelancing, every person stepping in the online world should know.

1. Freedom of Clients
Freelancers can select the clients they are working with. They can also work with multiple clients or just a few selected clients. WritingForU surveyed more than 2,000 freelancers and showed that networking (56 percent) and job-search sites such as Upwork (47 percent) are among the top two methods freelancers use to find clients.
2. Control of Workload
Another benefit of working for yourself is the flexibility to select your work hours. You can work as much or minimally as you like and choose projects that matter to you. You can focus on the things you like doing without the burden of having to work all day, such as meetings and office politics, work distractions, etc.
3. Flexibility
With this freedom to manage workload and clients, freelancers can enjoy the flexibility many wish for. If you'd like to work full-time all the time and only work in the summer months, you're in control and the control to decide.
4. Independence
Independence is the key in this field. Working from home is a great way to gain independence. In addition to being away from the cubicle and the 9-to-5 life, you are free to choose to be yourself in most instances where you are most comfortable doing so.
5. Exposure
Many jobs allow employees to choose from a wide range of jobs. However, freelance work allows you to take on various topics and projects. In-house work for one firm might not allow you to work in different industries or career fields. It is a method to expand your horizons. The variety of work can create an atmosphere that's not monotonous and dull.


❌ Freelancing Cons
Down below is a deep dive into the freelancing cons that might make you reconsider whether you want to take freelancing as a career or just mood changer.


1. Taxes
Uncle Sam receives a portion of the income, regardless of whether you're a freelancer or an employee. However, the freelancers must take on the obligation of paying self-employment taxes and paying these taxes quarterly. But freelancers also get deductions that employees aren't eligible for. Taxes are one of the disadvantages when you freelance, so make certain to consider the laws and regulations when making your rates.
2. The absence of benefits
Although employees are (most of the time) entitled to benefits, freelancers are not eligible for benefits. Because freelancers are self-employed, they are usually accountable for sourcing and financing the insurance they purchase independently.
3. Sporadic Work
Remaining a steady job is a major disadvantage of freelance work. Projects may begin but then are put off. Customers may terminate a contract earlier. You might complete a project but struggle to find new work. The most difficult thing to do in the WritingForu survey of freelancers was getting clients (65 percent). Utilizing a job site such as WritingForU will help you stay updated with getting your next job.
4. The Ultimate Responsibility
When you're a freelancer, you're running a company. You're responsible for developing your business, finding and managing clients, billing/collecting, and paying taxes. You'll need to make many decisions on how you'll handle and accept payments (QuickBooks, PayPal, check, and so on). and which software you'll need to buy (Adobe Suite, Microsoft Office, subscription platforms, and more), as well as what promotional tools you require (business cards, websites or even the logo) and many more.
Many are not prepared and competent enough to tackle these challenges. You're the boss of your image and must manage your freelance business like it's a business.
5. Cash Flow Problems
When considering the advantages and disadvantages of freelancing, cash flow is one of the most troubling issues. While freelancers can decide their rates to ensure they are earning (and their clients') needs, they are also accountable for collecting the payment. A few freelancers have faced clients who don't pay their bills.
Additionally, freelancers should inquire from prospective clients about their expectations of the position and whether the work is temporary, seasonal, or continuous.
6. Isolation
A common disadvantage to working as a freelancer is that you'll be the only one from your team or business. If you do not have people close to you with whom you can collaborate, you'll work on your own most of the time. (For some, this could be an opportunity for good!). But I would suggest to make your connection vast to receive helping hand in time of choas.
Thank you for reading this article. I hope you found some helpful information here. If you have any questions or suggestions, please leave them in the comments section below.